middle section in layers but still easy to access thanks to gussets (best JJB feature by far!). Back zipper is deep and holds a travel pack of wet ones (or something relativly flat) perfectly. Anything thick in here though will be a tight fit. Elastic band pretty much does nothing for me. Depending on your packing style I guess. Putting something in it makes the flap a bit top heavy and the mommy pocket more cramped. Maybe a coloring pad or something slim would be good.
Mommy pocket used for care items. It perfectly organized. Good size, I couldn't fit my BeRich w/ all that I had in it, but it fit in the middle compartment w/ all that was in there.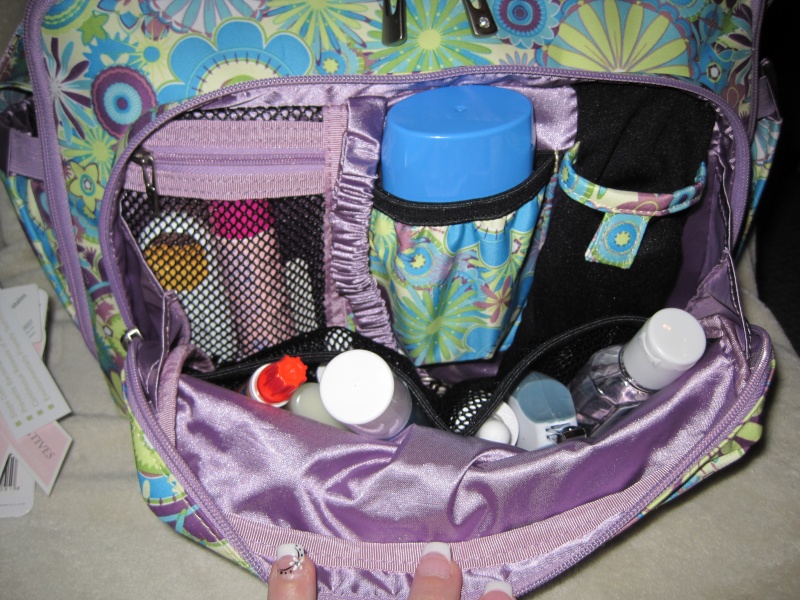 Back section- hard wipes case and 2-3 size four diapers. That's about all that will fit in here. W/ all this in there it doesn't create bulk in the other compartments. Anymore would though.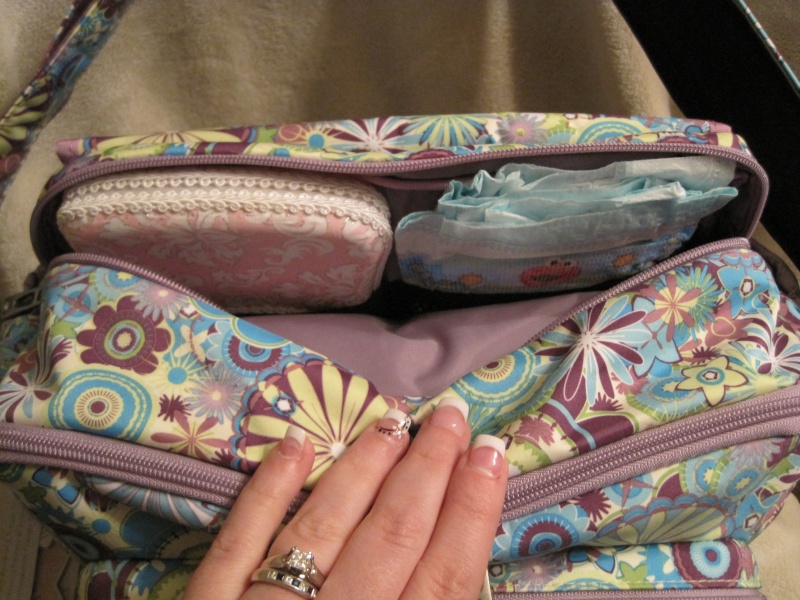 Changing pad slip pocket w/ a spare diaper. Changing pad is smaller than usual, but it fits my 10 month old just fine.
I have a 10 month old and have used it since she was 7 months. This is a perfect sized bag for the essentials and a few toys plus a small snack holder. Not good for overpackers but I'm a plan for the unexpected type mom and I find that this bag works well. The organization is phenomenal! I keep one bottle in the side bottle pocket (Playtex drop ins) and just bring an extra nipples/liners. The other side bottle pocket holds my disposable bag dispenser for dirty clothes. There's still room in the middle w/ all that I have in it. The color of the lining is a beautiful satiny lilac color. All JJB's are easily cleaned. I hesiated to get this because several reviews say it's too small, but I decided to give it a try and now own 2 betweens. They really are well sized for a day out. Strap makes it easily carried messanger style or shrink it up to carry under arm. Both are comfortable. Grippy strap pad makes it stay on so well! All in all, if I planned on more kids, I'd get this bag in many patterns. It's so versitle and can be used from birth to toddler easily.