PLEASE KEEP THIS THREAD FOR ENTRY COUNTS ONLY!!!

So many ways to enter this AWESOME contest!
Please note you can do all of these things as many times as you want to get more entries for a better chance to win!You will be entering to win the

Fleurville Pink Bingo Sling Tote


You will just be responsible for the shipping! HOW AWESOME?!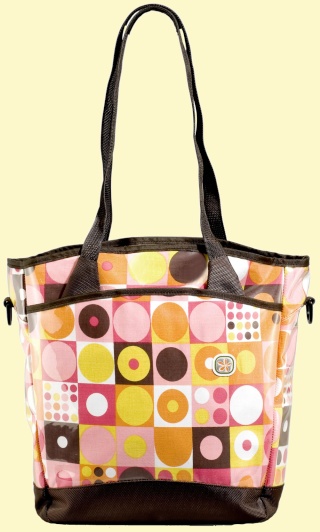 THIS CONTEST WILL END ON MARCH 2ND!
AND!!!!!! I will be having several random giveaways JUST FOR PARTICIPATING!!!
You get 1 entry for each of the following:
*Post a new topic on our forum (Start chatting and get and entry for each post

*Reply to a topic on our forum
*Follow us on Facebook, Twitter, YouTube or the Blog
*Post about this contest in other groups, blog comments etc...
You get 3 entries for each of the following:
******************LIMITED TIME BONUS!!!************************
GET DOUBLE THE ENTRIES FOR THE FOLLOWING!!! THAT'S 6 ENTRIES INSTEAD OF 3
*Post a review about Little Dudes and Divas on other sites like Epinions, MSN Shopping, Yahoo Shopping, Biz Rate, Price Grabber and any other store review websites.
***And you get 10 entries for every person you refer to the forum! ***
*******Please note- memberships are being tracked to prevent false accounts (sorry but sadly we've had that situation before
***RULES***
PLEASE KEEP THIS THREAD FOR ENTRY COUNTS ONLY!!!
Here is where you will come back and respond in THIS thread for the things you've completed.
Reply in THIS THREAD with:
I did "so and so" for "so and so" entries
I posted "so and so" for "so and so" entries
Etc…..... you get the idea right?
Don't forget to mention the amount of entries and add a link where possible
I know it's a little bit of a hassle but I would like it all to be in this one thread.
-Follow any or ALL of the extras (blog, twitter etc...) to get an entry for each – new followers only will get an entry
-You can post reviews about Little Dudes and Divas on as many sites as you like but please keep them genuine without spamming because it will be removed by those websites
*******YOU MUST BE A MEMBER OF THE FORUM TO PARTICIPATE**************
Bag winner will be responsible for shipping cost of bag only.
Winner will be chosen via Random.org
We hope you enjoy this contest and are so happy to have you all participate!
The fine print-----Little Dudes and Divas
Reserves the right to make changes and/or cancellations at any point to any contests on this forum.
Will not be held responsible for prizes lost in transit.
Will ship prizes out at their convenience.
Will make no substitutions for prizes.