JU-JU-BE BE LIGHT – REVIEW FOR LITTLE DUDES AND DIVAS
I got my first diaper bag in 2006 when my first child was born. It was a well organized messenger style bag, however difficult to clean and with loud velcro closures. When my second child was born two years later I felt that I deserved a new bag, and that's when I discovered Ju-Ju-Be. The importer and distributor in Sweden, My Little Star, demonstrated the range at a children's expo in Gothenburg 2008 and I am since an addicted Ju-Ju-Be fan.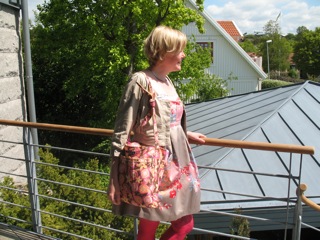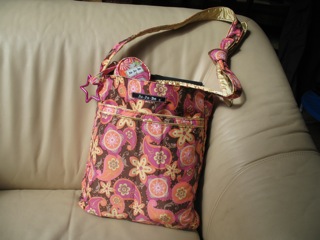 THE DELIGHTFUL BE LIGHT
One of my favorite Ju-Ju-Be bags is the lovely BeLight, my latest Ju-Ju-Be purchase being one in SangriaSunset (with gorgeous sunshiny lining, and the bag is reversible!). The BeLight is perfect because it is truly lightweight and even folds up really small so you can put it in your pocket as a spare bag when you go out. I use it primarily on short trips to a set destination, like going to the store or an afternoon visit to the local museum with the kids, now four and two years old. It actually holds everything and more! I got my first BeLight a year and a half ago, in LotusLullaby, and I have used it at least weekly until now that I decided I would finally get a lighter pattern as well. For my oldest I pack tissues for a runny nose, a bottle of water in one of the front pockets and perhaps a sweater and a change of underwear. For my youngest I pack wipes and a couple of diapers (in a BeQuick) a full change of clothes and maybe his own water bottle. The pacifiers go in the PaciPod clipped on the shoulder strap! Before I got the new and awesome PaciPods I kept pacifiers in a front pocket or the inside zippered pocket to stay clean. There is also often a couple of toys, some fruit and of course the BeMine of the day in the main compartment as well as brochures, magazines or books (!) in the back pocket.
FITS EVERYTHING, EVERYONE, EVERYWHERE
The greatest thing about the BeLight is how versatile it is. If I have loads of stuff under the stroller, I just grab my BeLight and fill it with the things I need for a quick errand while my partner stays with the kids. Or if I'm at home and realize I need to rush out quickly to do something, I always reach for the BeLight and throw in what I need, with or without kids. You can tie it in a million ways and wear it on your shoulder or across your body. Shorten the straps and hang it over the handles of the stroller or make a loop on both straps and tie one on each stroller handle of a buggy. It looks great, is super practical and seriously holds a TON of stuff!
Ju-Ju-Be SangriaSunset BeLight
PACKED FOR A WEDDING
To demonstrate, I have taken some pictures while packing for an afternoon and evening WITHOUT the kids. You see, this bag is perfect for outings when you need to take a little bit more stuff, but still want to look great and not log around a heavy bag. I got the SangriaSunset BeLight for a wedding, and the bag has been strategically waiting by the door for the last few days. As I go past I put in the things I must not forget, like an umbrella in one of the front pockets – it most definitely will rain, tissues in the other pocket – I most definitely will cry, the wedding gift and card, a total of about one hundred copies of song lyrics that the bride wrote for her future husband at the hen's night, a cd with the song recorded and a questionnaire that both bride and groom have answered respectively. I have packed a scarf and earrings that I won't put on until we have dropped the kids off at my mother's house, and tights that I will wear if it's cold (most likely). On top of that I have packed a hand cream, some make-up (in the PaciPod!) and a hair brush, wipes (once you start using them, you can't leave home without them), and in this case a BusinessBe instead of a BeMine as I only need a few things. I will take the changing pad that comes with the bag too, since the wedding is outside and the weather forecast somewhat wet. It will be perfect for me to sit on and saves the dress! The bag will also hold my mobile phone and keys in their respective pouches that I forgot to put in the pictures of the content. They fit easily too. There is even room for a pair of flats if I decide to change shoes when the party is over!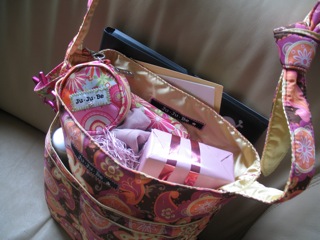 Attached ZanyZinnias PaciPod and BeQuick inside
... SKIP TO THE END
There is no downside to this bag. The light lining makes it easy to find things in the main compartment, the two outside pockets are perfect for bottles, wipes, diapers and other things that fit nicely (like the BeRich, I need one), there is a big zippered pocket on the inside for items that you want to keep track of, and the back pocket that holds a thin changing pad is just the right width and depth for a glossy magazine for mommy. You can adjust the carrying straps to the length you want and tie them to fit the stroller or yourself perfectly. You get a lot of bag for little money, the colors and patterns are great, it's machine washable, there is no velcro and, hey, it's Ju-Ju-Be – the best a woman can get, with or without children.
P.S. For whole day excursions with one or more kids, or when you need to pack more bulky stuff for yourself, check out the MightyBe – just as light and versatile, only bigger!
P.P.S. I did take an extra pair of shoes to the wedding, and my heels fit in the bag nicely when I exchanged them for the flats to go home!
All content spread out in front of empty BeLight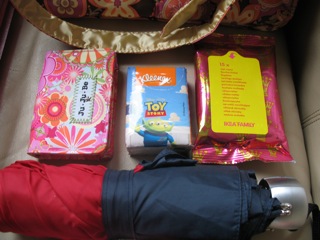 BusinessBe, tissues and wipes (all in one front pocket) and umbrella (in the other front pocket)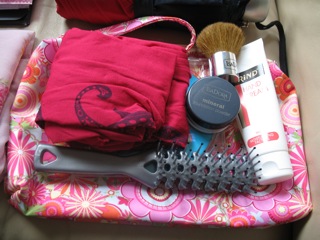 BeQuick with cd, tights, hand cream, hair brush, powder and brush (main compartment)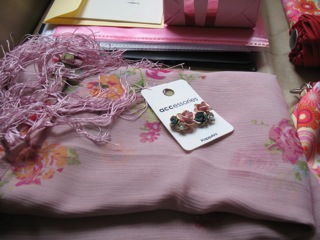 Scarf (main compartment) and earrings (inside zippered pocket)

BeLight changing pad, folder with one hundred A4 copies and wedding card (all in back pocket), wedding gift (main compartment), PaciPod with lipstick, eyeshadow and perfume (attached to the shoulder strap)